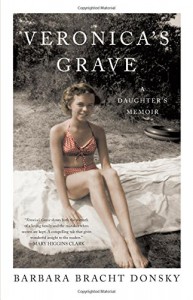 This is a very interesting memoir as it tells the story of a little girl, losing her mother at a young age and confused as to why and where she went.
Told in an almost fiction way, with great dialogue. Some memoirs are very dry and boring, not so this one. I found myself remembering some of her references, especially the Nancy Drew ones. I myself loved Nancy Drew stories but in a different way as reading was an escape for me from an abused childhood.
I enjoyed reading this coming of age story, from the reminences of early childhood to the author's young adulthood and her love of French things, becoming a stewardess, dating and coming to terms with the death of her mother. You have to wonder why a father would keep the death of his wife from his daughter as if he was ashamed of his wife. But as I grew up in an era where children are seen and not heard, I guess he must have figured his daughter didn't need to know the details. Kind of sad really.
This book is worth a read! I enjoyed it immensely!