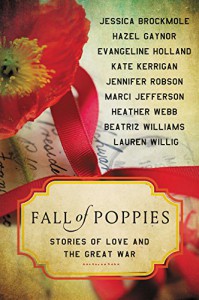 On the eleventh hour of the eleventh day of the eleventh month November 1918...signified the end of the war in Europe. A devasting war where so many lives were lost.

Poppies are often used for remembrance, particularly from WWI so the title of this book is particularly poignant.

The Fall of Poppies is a book comprising of nine different authors, coming together to tell the stories of love, hope and starting over.

The Daughter of Belgium by Marci Jefferson, about a young woman whose family is gone, killed in the war, who lives in the hospital, afraid to leave and is tasked with taking care of an enemy soldier when the rest of the patients and nurses move to a new hospital.

The Record Set Right by Lauren Willig tells the story of an elderly woman in 1980 who is asked to visit a lost love from WWI who is dying. The story takes the reader back and forth during these two eras to tell the story of two people separated because of a scandal and to set the story straight.

All for the Love of You by Jennifer Robson. Another story of lost and found love dating between 1918 and 1925. A young woman works with an artist who creates masks for men who have received facial injuries in the war. She meets a man, falls in love but is separated from him when he returns to the US. Her father, in trying to protect her hides letters feeling that this young man was not good enough for his daughter. Will they ever meet again?

After You've Gone by Evangeline Holland. A young woman has lost her husband in the war. Her best friends husband was also killed and could not cope and committed suicide. She is was a dancer but has not done anything since she lost her husband. When fate sets in, she meets a young American and she is enlisted in taking him and his mother on a tour of Paris.

Something Worth Landing For by Jessica Brockmole. A young man meets a woman outside of a medical department in tears. They form a friendship and because of her scandalous 'condition,' they get married. He wants her to have his name and pension in case his plane crashes. He is scheduled to fly a mission. They make a pact that she will write to him but he is not to respond.

Hour of the Bells by Heather Webb. A middle-aged woman who's husband died in The Great War and she gets a notification that her son may also have been killed. Despondent, she vows to get whoever killed her son. She is a German living in France so she must go over the border of Germany to get justice.

An American Airman in Paris by Beatriz Williams. A young pilot who hangs onto a photograph. He survives a mission but is confronted by Germans and almost killed. Saved by a young girl but in a German hospital. To him, his war is over, he heals but stays in Paris.

The Photograph by Kate Kerrigan. Takes place in Dublin 2016, a hundred years after the 1916 uprising in Ireland. An Irish family will find that there are some secrets that need to surface.

Hush by Hazel Gaynor. 1918 and a baby is born lifeless and a young man in the midst of a bloody battle. Can they both survive? Even though the war is over, nothing is normal again.

I really enjoyed this anthology of stories, each told with compassion when stories such as these can be heartbreaking and the characters long for what was lost and shows each author's talent for a great historical fiction story. As they say, "War is Hell".